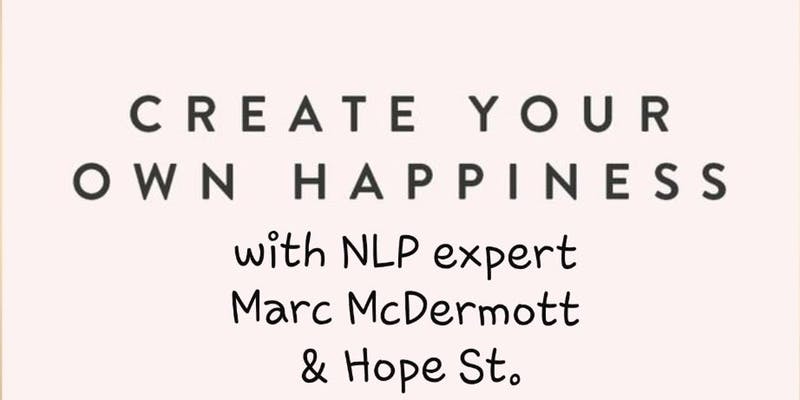 Imagine for a moment you are the creator of everything you experience…
You can, and do create everything that happens to you.
If this were true, what would you plan to experience in the next year?
What would you decide to think, do and experience? Just as importantly what would you choose to leave behind?
If this sounds like something of interest to you or is something you would like to experience, join us on Saturday 12th January 2019 – for an exciting one day course enabling you to 'Create Your Own Happiness!!' The course will be held at Ormskirk Cricket Club (Altys Lane, Ormskirk, L40 4RE) a friendly, bright, local environment from 10:00 – 16:00 GMT.
The North West's premier Neuro Linguistic Programming (NLP) coach, Marc McDermott whom has over 25 years experience is teaming up with Hope St to deliver a fun, interactive workshop where he will be sharing information taught to him by the world's leading NLP specialists.
During the exciting one day course, you will learn:
How to become more mindful, spending more time in the moment, enabling you to communicate more effectively from this perspective.
The process of creating a positive resource state.
The process of creating a compelling vision of your best future and steps towards achieving it yourself.
What a S.M.A.R.T goal really is and how to effectively set them.
The four steps towards achieving your goal and the process of doing so.
The course would usually cost £150 per person; however due to the partnership between Hope St and Marc, the course has no fixed fee. Tickets do however still need to be reserved due to a limited amount of places – this can be done through eventbrite at https://www.eventbrite.co.uk/e/create-your-own-happiness-tickets-54173866493?aff=efbeventtix
At the end of the course, if you feel you have valued from it we would ask you to kindly provide a donation towards Hope St for us to continue supportingg those struggling to manage their mental health effectively!
We really hope you will join us for this fun filled, one-off opportunity of a day!